Feminism, Pop-Culture | Posted by Julie Z on 07/28/2009
Twitter and gendered language
Of all the things to spark a debate over the lack of gender neutrality in language, I really hadn't expected Twitter.
Twitter seems to get a lot of flack. Upon telling people that I have a twitter, they usually roll their eyes or laugh in my face.
They tell me it's Twitter promotes the death of language and creative thought.
They tell me that it's weird to update people on everything you do (nobody cares) [OH BUT THEY DO] and it only promotes stalking.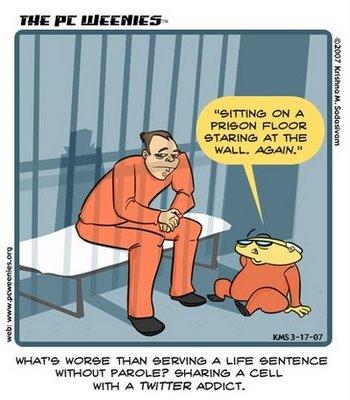 But Facebook, which not only has a status update feature, but allows users to take stalking to a truly comprehensive level, by letting them read your conversations with others, view photos of you, and learn about your "interests and activities" — no that's fine. Because it's facebook, duh.
They make fun of the verb "to tweet." I honestly fail to see the hilarity in the word "tweet." The word "moist" is way funnier, and hardly anybody makes fun of that, they just casually throw it around when referring to baked goods.
The one criticism of Twitter I've gotten almost entirely from guys, the one that made me sure Twitter could never lead any kind of gender revolution was, "Straight guys don't Twitter."
I'm sorry…what's that now? I didn't know that a type of social networking could be deemed as restricted to certain sexualities. News to me! Especially since there are plenty of hetero guys on Twitter. I mean, Lance Armstrong is on twitter. So is Peter Facinelli (Dr. Cullen). I think Chuck Norris might be, but it's not certified and the tweets are kind of sketch. Last I checked, none of them identify as gay. Apparently, if you update your status on twitter you're gay, but if you do so on Facebook you're straight as an arrow. Seriously, who comes up with this shit?
But I guess I was wrong, as apparently there's a big twitter debate about finding a new, gender neutral pronoun. Because to have to clarify gender in 140 characters or less is challenging, not to mention that we shouldn't have to clarify gender in the first place.
Some gender neutral pronoun suggestions are: s/he, he/she, shhe, hiser, heer, ha, thon, ne. And then there is the ever dreaded use of "they" as a singular pronoun.
OHHHHHHHHHHH NOOOOOOOOO!!!!!!!!! YOU CAN'T USE A PLURAL PRONOUN TO REFER TO ONE PERSON. THE WORLD WILL BE CONSUMED BY THE WRATH OF THE GRAMMAR GODS IF YOU COMMIT SUCH AN ATROCITY AGAINST MANKIND!
My question is this: is it worse to continue using gendered pronouns (language matters, as fbomb commenters themselves have pointed out on numerous occasions) or to use a neutral plural pronoun as a singular pronoun?
Also, which one would you rather say in casual conversation: "they" or "thon" / "ne" / "ha" ? Yeah, that's what I thought. It's clear which word would make the transition easier.
So, thank you, Twitter, for sparking this debate. I'm glad that people are starting to talk about language as it applies to gender.
Now we just need to branch out from English. I'm going into Spanish 3 in school, and for those not in the know, Spanish is also pretty gendered. I also am learning Hindi, and that has a heck of a lot of gendered words. I'm sure there are many other gendered languages too.
I know I slip up a lot with my use of language, and a lot of well-meaning people do, too. It's really hard to transition away from using such common words. But in the end, we all have to try.
Read other posts about: Chuck Norris, Facebook, gender neutral language, Lance Armstrong, Peter Facinelli, Twitter
Post Your Comment
Angel B @ at 11:48 am, July 28th, 2009


"Straight guys don't Twitter" – A nominee for the most stupid comment I've read this decade in Internet. Sounds like a true "Maxim Reader" that one.

Indeed Spanish is very heavily gendered, you have no idea of the situations a wrong pronoun or gender in a word can create

I wish you luck with your spanish classes. Work hard so you can read my blog. I have a few posts that I'm pretty sure you'd like!

A fan from Mexico City

Angel B

Note: In spanish-speaking countries Angel is a male name. It is a frequent confusion

Alex Catgirl @ at 2:05 pm, July 28th, 2009


Those who tweet = Twits:D
It's gender neutral.

Don't use facebook, myspace, IM systems or anything else either, I have a few email addresses and phone numbers. If people don't know what they are, it's because I don't want them finding me:D

Brianna @ at 3:32 pm, July 28th, 2009


Part of the reason I love English is because it's so gender neutral compared to other languages like Spanish. I grew up in a Spanish speaking family not knowing Spanish, and I always found it odd that objects had genders, as if they were living males or females. Sometimes I switch the gender pronouns in Spanish, and it results in weird misinterpretation.

Grace @ at 4:03 pm, July 28th, 2009


I once read that those who speak gendered languages are more likely to think of objects as masculine or feminine, and describe them with adjectives associated with their gender. I wondered whether seven years of French class had affected my thinking that way.

Also, why is the verb for commenting on Twitter "to tweet" when "twitter" is already a verb?

Rogue @ at 5:05 pm, July 28th, 2009


I use "they", consequences be damned!

Helen H. @ at 6:25 pm, July 28th, 2009


Arabic is my mother tongue. As far as I can tell, it's even more gendered than Latin languages. So, studying French and Spanish wasn't as irritating as it could be for people who speak gender-neutral languages.

I don't really tend to think of objects as masculine or feminine. Maybe it's because I'm more fluent in English. When speaking a gendered language, I always feel like the femininity or masculinity is restricted to the language. I think you just get used to it.

Tea @ at 2:09 pm, July 29th, 2009


You do get used to it, to a certain extent, but gendered objects still have an effect. There was a study done on people speaking different languages where specific words have different genders.
"When asked to describe a "key" — a word that is masculine in German and feminine in Spanish — German speakers were more likely to use words such as "hard," "heavy," "jagged," "metal," "serrated" and "useful." Spanish speakers were more likely to say "golden," "intricate," "little," "lovely," "shiny" and "tiny.""

The full story on NPR is here (http://www.npr.org/templates/story/story.php?storyId=102518565)

Tea @ at 2:10 pm, July 29th, 2009


http://www.npr.org/templates/story/story.php?storyId=102518565

Lighthouse Boy @ at 6:46 am, July 31st, 2009


I have a Twitter, but, don't use it all that much. This has nothing to do with gender (whoever said 'Straight guys don't Twitter' is both wrong and an arsehole), but, all top do with the fact that Tweets are limited to 140 characters. For me, that is extremely limiting.

I think Twitter can be summed up as 'blogging by text message'.

I can put my opinions on my own website, on a forum, in my notes in Facebook, without any limit.

Unless I was writing a frivolous post (sorry, Tweet) about who fncies who, or a Tweet saying 'I'm out tonight, who else is?', to get anything more meaningful, the only way I can see is to put a few words, then a link.

Amy CT @ at 2:02 pm, October 9th, 2009


I tweet. I'm not really sure why, except for the fact that when you start, it gets really hard to stop…

But this comment was GENIUS –

"OHHHHHHHHHHH NOOOOOOOOO!!!!!!!!! YOU CAN'T USE A PLURAL PRONOUN TO REFER TO ONE PERSON. THE WORLD WILL BE CONSUMED BY THE WRATH OF THE GRAMMAR GODS IF YOU COMMIT SUCH AN ATROCITY AGAINST MANKIND!"

Ha ha!!

I'm a grammar despot (sorry), and that made my day!

codieface @ at 6:38 am, October 13th, 2009


I just came back from six months on exchange in Germany, and that hardly makes me an expert on the culture but I did notice there were a lot of differences between the Australian and German culture. In Germany, I was really shocked to find that the nuclear family ideal is alive and kicking. Most women stay at home until their children go to school – that sounds ok? Except kids start school at six or seven. If you have two kids, two years apart, that means you're could be out of the workforce for nine years. And school goes from 8am-1pm, and if you don't want to abandon your children (which all women who work do, of course), it means you can only work part time.

And I was noticing this at the same time that I was learning the language. I was watching Bend It Like Beckham (one of my favourite movies of all time), in German. Now I've seen that movie so many times in English I could recite the dialogue to you off the top of my head. At one point of the movie, a (kind of douchebag) guy catcalls a member of an all-women football team – one of the characters asks if they couldn't see the all-female football team 'just as football players'. The meaning was COMPLETELY lost on the German audience – it translated as 'can't you just see them as female football players' because every noun that applies to a person has a male and a female form – a male player is a 'Spieler', a female player is a 'Spielerin' – the male plural form is 'Spieler' (the same as the single), but the female plural form is 'Spielerinnen'.

I'm not sure if the two are connected – I only speak English and German, and I've only ever lived in Australia and Germany, but I think it raises some pretty interesting questions about language and culture.

Steffanie Michalicek @ at 1:53 pm, September 2nd, 2010


hmmmm…i don't think I go along with everything that you wrote, but I like the way you express yourself in your thoughts. I'm following your RSS.

A @ at 3:54 pm, February 17th, 2011


"OHHHHHHHHHHH NOOOOOOOOO!!!!!!!!! YOU CAN'T USE A PLURAL PRONOUN TO REFER TO ONE PERSON. THE WORLD WILL BE CONSUMED BY THE WRATH OF THE GRAMMAR GODS IF YOU COMMIT SUCH AN ATROCITY AGAINST MANKIND!"

My two core loves are feminism and grammar. They are the opinions I hold strongly to and the things that I hold most dear. I agree with that quote, even though it's meant to be a mockery. We truly need a gender neutral singular pronoun. I like s/he best.
Leave a Reply